About us
A-Mui, which means "plum blossom" in Taiwanese, is actually the name of my mother, who was a great cook. Since I was a little girl I always enjoyed cooking by her side, and learnt so much about it from her. Although she passed away without having the chance to see my shop open, I have named it after her in ordre to remember all the good food she used to make, with the goal of passing it on to the public in Belgium.
A-Mui is not limited to traditional Taiwanese cuisine, but is a re-creation of the dishes that Taiwanese often enjoy in their daily lives.  Taiwain has always been a land of immigration. The first Chinese moved from Southern Fujian to settle down in Taiwan at the end of the Ming dynasty (1368-1644). In 1895 the fifty-year period of Japanese occupation began. Later, in 1949, many Chinese from every province on the mainland followed the Nationalist government's retreat to Taiwan. During the last 20 years, a large number of immigrants have come from Southeast Asia to work and live on the island. With the influence of so many foreign cuisines across various periods, the content of Taiwanese daily cuisine has also changed.
At A-Mui, you will find not only Taiwanese-style lunch boxes and Taiwanese burgers, but also Japanese curries, Korean bibimbap and kimchi, Thai lemon steamed fish, and many other Asian cuisines. In short I want to share with everyone all the delicious dishes I have been enjoying for so many years.
Lin Hui-Chu
Founder
Our lunches
Taiwanese lunch boxes
Unlike the Japanese custom of eating a lunch box cold, Taiwanese prefer a warm lunch box. Traditional Chinese medicine recommends keeping healthy by eating warm food and avoiding cold food. Therefore it is very normal to eat three hot meals a day in Taiwan. The Taiwanese lunch box generally contains three parts: one portion of meat or fish, one portion a side dish which usually has at least two vegetables, and one portion of rice.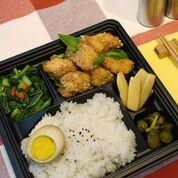 Taiwanese burger (Gua bao)
Becaude its shape and stuffing are like a tiger's mouth biting a piece of pork, it is also known as "tiger biting pig" in Taiwan. Since it's is eaten like a hamburger, we also call it "Taiwanese burger".  In A-Mui, we offer handmade steamed buns with traditional Taiwanese filling: braised pork bellin, salted picked mustard and coriander. The whole is then sprinked with a suger-and-peanut powder. A genuine taste of Taiwan! We also offer vegetarian versions with braised bean curd or tofu.
Our shop will serve warm lunch boxes from Monday to Friday between 11:30am and 2:30pm. Please keep in mind that our food is to take away only and may not be eaten in the shop.